Quality Policy
The quality policy of Formula Plastics Ltd is to provide products and services which provide customer satisfaction based on world class manufacturing quality performance.
Accreditation
We are fully accredited ISO 9001:2015 supplier.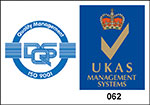 Advanced Product Quality Planning
With our expertise in successfully delivering new projects, our NPI programe ensures a smooth introduction into production and provides on time supply.
Continuous Inspection & Improvement
Quality is continually monitored within the factory to ensure that customer requirements are fulfilled. Functions include:
» 100% inspection during production and assembly processes.
» First off and last off inspections, measurement & reporting together with SPC and preventative maintenance are employed to achieve continuous improvement in quality performance.